Thwomp Factory Fryday is a weekly feature in which Amelia takes recipes out of a game with a cooking system and follows it as closely as possible. It will be posted every Friday until she runs out of money or gets salmonella.
Welcome to the very first Thwomp Factory Fryday! I had been struggling to come up with a way to combine my love of cooking with my love of talking about video games, and I think I finally stumbled on something delicious. Sure, I could just review different cooking games and mini-games, but that won't tell you anything you don't already know from playing the game. Besides, the real test of any recipe is the actual finished product, and the real test of any cooking game ought to be the quality of food that all those little sprites gobble up.
At first it seemed only fitting to start with the mother of all cooking games, Cooking Mama, but that also seemed like a cop out. If I want to prove my dedication to culinary perfection I ought to start somewhere a little more challenging. Not only that, but I'd like to kick things off with a bang and a multi-course meal (with minimal effort). So, this Fryday's menu comes from Harvest Moon: Magical Melody.
Antipasto: Veggie Salad
Entree: Cream Salmon
Beverage: Strawberry Milk
Dessert: Caffeine
Veggie Salad: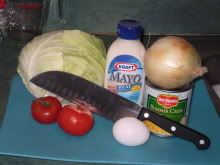 Ingredients: Cabbage, onion, corn, tomato, boiled egg, mayonnaise
Utensil: Knife Set
I think I came pretty damn close to recreating what must be going on in the game, the one exception was that corn on the cob is not available where I live in April, so I had to use a can of corn, which I imagine Mr./Mrs. Harvest Moon does not do.
Cream Salmon:
Ingredients: Onion, Carrot, Salmon, Butter, Flour, Milk
Utensil: Pot
Wow. That little guy must be quite a chef, to be able to make Cream Salmon using just a pot. I had to cheat in a couple ways on this one. First of all I cut up the onion and one of the carrots, though I also left one whole to see how it would fare. Also I used a spoon to mix things up a bit while cooking. I imagine in the game they just toss everything into a pot and turn it on, so that's also what I did.
Strawberry Milk: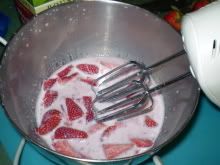 Ingredients: Strawberry, Milk
Utensil: Mixer
I used whole milk, because I imagine that's closest to what actually comes out of harvest moon cows, and an electric hand mixer. They probably did mean a blender, however I don't have a blender, so this seemed both the best choice out of tools I do have on hand as well as matching up perfectly well with the name.
Caffeine:
Ingredients: Milk, Cocoa, Cayenne
Utensil: Mixing bowl
Well, yeah. Three ingredients stirred around in a mixing bowl, not much room for creativity or improvising here...sadly. Whew. I think this picture says everything. But nothing is too burning in the name of science! ...and video game cuisine.
The Final Product


My Impressions of food in the game:
All Harvest Moon games are pretty similar, but something about the food in Magical Melody actually seemed less appealing to me than cooking in earlier games. I think it's because when, say, in Save the Homeland, you can do something as simple as put 3 berries in a pot and come out with jam you know there's some kind of magic going on to create the end product, and probably as soon as you turn your back on the pot the harvest sprites come by and hop in the pot with their jar of magic pectin and cast some spells and give you jam. As the cooking systems get more complicated, it seems less like you're making magic and just making sub-par food.
My impressions of the real food
: Wowza, that was pretty good. Mayonnaise generally gives me the jibblies, but I would call "Veggie Salad" tolerable at worst. I didn't think the "throw everything in a pot until the salmon is done" method of cooking would work, but it resulted in some very tasty, buttery "Cream Salmon" and the broth tastes like a super creamy French onion soup (I think I will use it to actually make a pot of soup tomorrow.) The strawberry milk was delicious, pretty much just like a strawberry milkshake with some big chunks in it. The only thing I couldn't finish was the "Caffeine". When I was dumping in a little cayenne powder I accidentally dumped in way more than any recipe would call for, and the results were one the bitterest, spiciest things I've ever drank.
Final thoughts
: I guess I have to take back those sub-par food comments. The good folks of Flower Bud Village, as with all things, have just discovered the most simple and delightful way of cooking without unnecessary baggage.
Remember to always do your best!
-Amelia